Published: Icon liftout, Melbourne Age & Sydney Morning Herald,
Published: 21 February 2004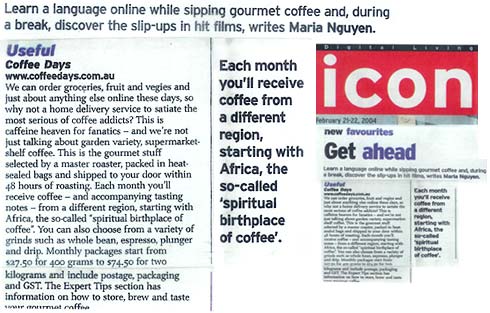 Published: Good Living liftout, Sydney Morning Herald, 21 October 2003
Published: Food & Wine Guide, Daily Telegraph, 15 October 2003
Media Release
Release date: 18th August, 2003
Coffee Days to launch Australia's First Gourmet Coffee Club
Your morning cup of coffee will never be the same again, thanks to the launch today of the Coffee Days Gourmet Coffee Club. The club, which is the brainchild of Australian coffee connoisseur, Mark Rotenstein, is the first of its kind in Australia, and could very well spark the end of our morning cup of sludge.
"Australians consume an average of 2.4kg of coffee every year but unfortunately most of that is instant coffee. Things are changing, though, and Coffee Days caters to those who want to experience more from their coffee", says Rotenstein.
Coffee Days offers its customers a truly unique experience, and an extensive range of quality coffee and "rare gems" delivered fresh to their door each month and all for about 70 cents a cup.
"The concept is similar to a wine club, where each month you get a delivery of fresh roasted gourmet coffee. And each month it's different – we've got dozens of origins and blends so your coffee can be something new every month."
"Plus you get tasting notes, interesting coffee trivia and expert tips on how to best store, brew and serve your coffee."
All coffee is roasted in Australia, by a Master Roaster, and shipped within 48 hours to ensure freshness. And customers can choose either whole beans or ground to suit their preferred brewing method.
Customers also qualify for special offers on coffee equipment, such as grinders, espresso machines and more.

For further information on the Coffee Days Coffee Club,
call Mark Rotenstein on (02) 9513 8856